Clear View II Defrosters – 24 Volt Master List
Any vehicle, any window, anytime
These easy to install defrosters feature proven heating performance with a professional factory look. Clear View II Defrosters reliably clear windows of fog, snow and ice even in the coldest winter conditions. Clear View defrosters are trimmed during installation between the minimum and maximum lengths for a custom fit on almost any window.
Complete or Stick Defrosters?
Complete Defrosters
Most Clear View II Defrosters are delivered complete including the ThermaSync control and switch plus the Installation Pack with everything needed to install the defroster. These defrosters are ideal for new installations.
Stick Kit Defrosters are available in some cases and include only the defroster, side buss bars and Gap One cleaner. No wire harness, control or installation pack are included. Stick Defrosters are ideal for defroster replacement in which can be connected to existing wiring.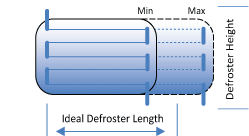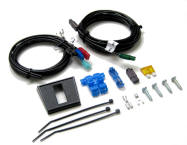 Clear View II Defrosters – 24 Volt Master List

Part
Number
Height
Inch (cm)
Length Inch (cm)
Heating
Element
Power
Modulation
Tabs
Peak Current
Type
Cost
(USD)
Order
Min
Max
Short
Long
2402-2835-L
4.12 (10.4)
28 (71)
35 (89)
2
3%
L
25
19.4
CMPLT
$75.85
Order
2402-3450-L
4.12 (10.4)
34 (86)
50 (127)
2
6%
L
20.4
13.8
CMPLT
$76.35
Order
2402-4871-L
4.12 (10.4)
48 (122)
71 (180)
2
12%
L
14.4
9.7
CMPLT
$76.85
Order
2402-6884-L
4.12 (10.4)
68 (173)
84 (213)
2
25%
L
10.2
8.2
CMPLT
$77.35
Order
2403-1824
3.75 (9.5)
18 (46)
24 (61)
3
3%
L/R
25
19.4
CMPLT
$77.85
Order
2403-2333
3.75 (9.5)
23 (58)
33 (84)
3
6%
L/R
20.4
13.8
CMPLT
$78.35
Order
2403-3247
3.75 (9.5)
32 (81)
47 (119)
3
12%
L/R
14.4
9.7
CMPLT
$78.85
Order
2403-4567
3.75 (9.5)
45 (114)
67 (170)
3
25%
L/R
10.2
6.9
CMPLT
$79.35
Order
2403-6484
3.75 (9.5)
64 (163)
84 (213)
3
50%
L/R
7.2
5.5
CMPLT
$79.85
Order
2404-1725-L
5.00 (12.7)
17 (43)
25 (64)
4
6%
L
20.4
13.8
CMPLT
$80.8
Order
2404-2435-L
5.00 (12.7)
24 (61)
35 (89)
4
12%
L
14.4
9.7
CMPLT
$81.30
Order
2404-3450-L
5.00 (12.7)
34 (86)
50 (127)
4
25%
L
10.2
6.9
CMPLT
$81.80
Order
2404-6884-L-STK
5.00 (12.7)
68 (173)
84 (213)
4
100%
L
5.1
4.1
STK
$44.30
Order
2404-4871-L
5.00 (12.7)
48 (122)
71 (180)
4
50%
L
7.2
4.9
CMPLT
$82.30
Order
2404-5571-L
5.00 (12.7)
55 (140)
71 (180)
4
12%
L
25
19.4
CMPLT
$83.30
Order
2404-6884-L
5.00 (12.7)
68 (173)
84 (213)
4
100%
L
5.1
4.1
CMPLT
$82.80
Order
2404-6884-L1
5.00 (12.7)
68 (172)
84 (213)
4
25%
L
20.4
16.4
CMPLT
$83.80
Order
2404-1418-L
5.00 (12.7)
14 (36)
18 (46)
4
3%
L
25
19.4
CMPLT
$80.3
Order
2405-2740
6.25 (15.8)
27 (69)
40 (102)
5
25%
L/R
10.2
6.9
CMPLT
$85.75
Order
2405-3857
6.25 (15.8)
38 (97)
57 (145)
5
50%
L/R
7.2
4.9
CMPLT
$86.25
Order
2405-5480
6.25 (15.8)
54 (137)
80 (203)
5
100%
L/R
5.1
3.4
CMPLT
$86.75
Order
2405-5480-STK
6.25 (15.8)
54 (137)
80 (203)
5
100%
L/R
5.1
3.4
STK
$48.25
Order
2405-1114
6.25 (15.8)
11 (28)
14 (36)
5
3%
L/R
25
19.4
CMPLT
$84.35
Order
2405-1420
6.25 (15.8)
14 (36)
20 (51)
5
6%
L/R
20.4
13.8
CMPLT
$84.80
Order
2405-1928
6.25 (15.8)
19 (48)
28 (71)
5
12%
L/R
14.4
9.7
CMPLT
$85.25
Order
2406-6484
7.50 (19.0)
64 (163)
84 (213)
6
50%
L/R
14.4
10.9
CMPLT
$91.25
Order
2406-0912-L
7.50 (19.0)
9 (23)
12 (30)
6
3%
L
25
19.4
CMPLT
$87.25
Order
2406-1117-L
7.50 (19.0)
11 (28)
17 (43)
6
6%
L
20.4
13.8
CMPLT
$87.75
Order
2406-1624-L
7.50 (19.0)
16 (41)
24 (61)
6
12%
L
14.4
9.7
CMPLT
$88.25
Order
2406-4567-L-STK
7.50 (19.0)
45 (114)
67 (170)
6
100%
L
5.1
3.4
STK
$51.25
Order
2406-2333-L
7.50 (19.0)
25 (58)
33 (84)
6
25%
L
10.2
6.9
CMPLT
$88.75
Order
2406-3247-L
7.50 (19.0)
32 (81)
47 (119)
6
50%
L
7.2
4.9
CMPLT
$89.25
Order
2406-3747
7.50 (19.0)
37 (94)
47 (119)
6
12%
L/R
25
19.4
CMPLT
$90.2
Order
2406-4567
7.50 (19.0)
45 (114)
67 (170)
6
25%
L/R
20.4
13.8
CMPLT
$90.7
Order
2406-4567-L
7.50 (19.0)
45 (114)
67 (170)
6
100%
L
5.1
3.4
CMPLT
$89.75
Order
2407-0810
8.75 (22.2)
08 (20)
10 (25)
7
3%
L/R
24.6
19.4
CMPLT
$91.75
Order
2407-1014
8.75 (22.2)
10 (25)
14 (36)
7
6%
L/R
20.4
13.8
CMPLT
$92.20
Order
2407-1420
8.75 (22.2)
14 (36)
20 (51)
7
12%
L/R
14.4
9.7
CMPLT
$92.75
Order
2407-1929
8.75 (22.2)
19 (48)
29 (74)
7
25%
L/R
10.2
6.9
CMPLT
$93.25
Order
2407-2740
8.75 (22.2)
27 (69)
40 (102)
7
50%
L/R
7.2
4.9
CMPLT
$93.75
Order
2407-3957-STK
8.75 (22.2)
39 (99)
57 (145)
7
100%
L/R
5.1
3.4
STK
$54.60
Order
2407-3957
8.75 (22.2)
39 (99)
57 (145)
7
100%
L/R
5.1
3.4
CMPLT
$94.25
Order
2408-2835-L
10.00 (25.4)
28 (71)
35 (89)
8
12%
L
25
19.4
CMPLT
$97.15
Order
2408-3450-L
10.00 (25.4)
34 (86)
50 (127)
8
25%
L
20.4
13.8
CMPLT
$97.65
Order
2408-3450-L1
10.00 (25.4)
34 (86)
50 (127)
8
100%
L
5.1
3.4
CMPLT
$96.65
Order
2408-4871-L
10.00 (25.4)
48 (122)
71 (180)
8
50%
L
14.4
9.7
CMPLT
$98.15
Order
2408-6884-L
10.00 (25.4)
68 (173)
84 (213)
8
100%
L
10.2
8.2
CMPLT
$98.65
Order
2408-3450-L1-STK
10.00 (25.4)
34 (86)
50 (127)
8
100%
L
5.1
3.4
STK
$57.10
Order
2408-0913-L
10.00 (25.4)
09 (23)
13 (33)
8
6%
L
19.1
13.8
CMPLT
$94.75
Order
2408-6884-L-STK
10.00 (25.4)
68 (173)
84 (213)
8
100%
L
10.2
8.2
STK
$59.15
Order
2408-1218-L
10.00 (25.4)
12 (30)
18 (46)
8
12%
L
14.4
9.7
CMPLT
$95.15
Order
2408-1725-L
10.00 (25.4)
17 (43)
25 (64)
8
25%
L
10.2
6.9
CMPLT
$95.65
Order
2408-2435-L
10.00 (25.4)
24 (61)
35 (89)
8
50%
L
7.2
4.9
CMPLT
$96.15
Order
2409-6484
11.25 (28.6)
64 (163)
84 (213)
9
50%
L/R
21.6
16.4
CMPLT
$101.60
Order
2409-1116
11.25 (28.6)
11 (28)
16 (41)
9
12%
L/R
14.4
9.7
CMPLT
$99.15
Order
2409-1522
11.25 (28.6)
15 (38)
22 (56)
9
25%
L/R
10.2
6.9
CMPLT
$99.65
Order
2409-2131
11.25 (28.6)
21 (53)
31 (79)
9
50%
L/R
7.2
4.9
CMPLT
$100.1
Order
2409-3044
11.25 (28.6)
30 (76)
44 (112)
9
100%
L/R
5.1
3.4
CMPLT
$100.6
Order
2409-3044-STK
11.25 (28.6)
30 (76)
44 (112)
9
100%
L/R
5.1
3.4
STK
$62.1
Order
2409-5567
11.25 (28.6)
55 (140)
67 (170)
9
25%
L/R
25
20.6
CMPLT
$101.10
Order
2410-5480-STK
12.50 (31.9)
54 (137)
80 (203)
10
100%
L/R
10.2
6.9
STK
$66.55
Order
2410-1420-L
12.50 (31.9)
14 (36)
20 (51)
10
25%
L
10.2
6.9
CMPLT
$102.10
Order
2410-1928-L
12.50 (31.9)
19 (48)
28 (71)
10
50%
L
7.2
4.9
CMPLT
$102.60
Order
2410-2228
12.50 (31.9)
22 (56)
28 (71)
10
12%
L/R
25
19.4
CMPLT
$103.60
Order
2410-2740
12.50 (31.9)
27 (69)
40 (102)
10
25%
L/R
20.4
13.8
CMPLT
$104.15
Order
2410-2740-L
12.50 (31.9)
27 (69)
40 (102)
10
100%
L
5.1
3.4
CMPLT
$103.15
Order
2410-3857
12.50 (31.9)
38 (97)
57 (145)
10
50%
L/R
14.4
9.7
CMPLT
$104.60
Order
2410-5480
12.50 (31.9)
54 (137)
80 (203)
10
100%
L/R
10.2
6.9
CMPLT
$105.15
Order
2410-2740-L-STK
12.50 (31.9)
27 (69)
40 (102)
10
100%
L
5.1
3.4
STK
$64.55
Order
2411-2536-STK
13.75 (34.9)
25 (64)
36 (91)
11
100%
L/R
5.1
3.4
STK
$68.15
Order
2411-1218
13.75 (34.9)
12 (30)
18 (46)
11
25%
L/R
10.2
6.9
CMPLT
$105.55
Order
2411-1726
13.75 (34.9)
17 (43)
26 (66
11
50%
L/R
7.2
4.9
CMPLT
$106.15
Order
2411-2536
13.75 (34.9)
25 (64)
36 (91)
11
100%
L/R
5.1
3.4
CMPLT
$106.55
Order
2412-0812-L
15.00 (38.1)
08 (20)
12 (30)
12
12%
L
14.4
9.7
CMPLT
$107.15
Order
2412-1117-L
15.00 (38.1)
11 (28)
17 (43)
12
25%
L
10.2
6.9
CMPLT
$107.55
Order
2412-1624-L
15.00 (38.1)
16 (41)
24 (61)
12
50%
L
7.2
4.9
CMPLT
$108.15
Order
2412-2333-L1-STK
15.99 (38.1)
25 (58)
33 (84)
12
100%
L
5.1
3.4
STK
$70.15
Order
2412-1824-L
15.00 (38.1)
18 (46)
24 (61)
12
12%
L
25
19.4
CMPLT
$109.15
Order
2412-4567-L-STK
15.00 (38.1)
45 (114)
67 (170)
12
100%
L
10.2
6.9
STK
$72.25
Order
2412-2333-L
15.00 (38.1)
23 (58)
33 (84)
12
25%
L
20.4
13.8
CMPLT
$109.55
Order
2412-6884-L-STK
15.00 (38.1)
68 (173)
84 (213)
12
100%
L
15.3
12.3
STK
$73.50
Order
2412-2333-L1
15.00 (38.1)
23 (58)
33 (84)
12
100%
L
5.1
3.4
CMPLT
$108.55
Order
2412-3247-L
15.00 (38.1)
32 (81)
47 (119)
12
50%
L
14.4
9.7
CMPLT
$110.25
Order
2412-4150-L
15.00 (38.1)
41 (105)
50 (127)
12
25%
L
25
20.6
CMPLT
$110.95
Order
2412-4567-L
15.00 (38.1)
45 (114)
67 (170)
12
100%
L
10.2
6.9
CMPLT
$110.5
Order
2412-4871-L
15.00 (38.1)
48 (122)
71 (180)
12
50%
L
21.6
14.6
CMPLT
$111.50
Order
2412-6884-L
15.00 (38.1)
68 (173)
84 (213)
12
100%
L
15.3
12.3
CMPLT
$111.95
Order
2413-0711
16.25 (41.3)
07 (18)
11 (28)
13
12%
L/R
14.4
9.7
CMPLT
$112.50
Order
2413-1015
16.25 (41.3)
10 (25)
15 (38)
13
25%
L/R
10.2
6.9
CMPLT
$112.95
Order
2413-1522
16.25 (41.3)
15 (38)
22 (56)
13
50%
L/R
7.2
4.9
CMPLT
$113.47
Order
2413-2131
16.25 (41.3)
21 (53)
31 (79)
13
100%
L/R
5.1
3.4
CMPLT
$113.96
Order
2413-2131-STK
16.25 (41.3)
21 (53)
31 (79)
13
100%
L/R
5.1
3.4
STK
$75.46
Order
2414-1620
17.50 (44.4)
16 (41)
20 (51)
14
12%
L/R
25
19.4
CMPLT
$115.95
Order
2414-1014-L
17.50 (44.5)
10 (25)
14 (36)
14
25%
L
10.2
6.9
CMPLT
$114.46
Order
2414-1420-L
17.50 (44.5)
14 (36)
20 (51)
14
50%
L
7.2
4.9
CMPLT
$114.95
Order
2414-1929-L-STK
17.50 (44.4)
19 (48)
29 (74)
14
100%
L
5.1
3.4
STK
$76.95
Order
2414-1929
17.50 (44.4)
19 (48)
29 (74)
14
25%
L/R
20.4
13.8
CMPLT
$116.50
Order
2414-3957-STK
17.50 (44.4)
39 (99)
57 (145)
14
100%
L/R
10.2
6.9
STK
$78.95
Order
2414-1929-L
17.50 (44.4)
19 (48)
29 (74)
14
100%
L
5.1
3.4
CMPLT
$115.45
Order
2414-2740
17.50 (44.4)
27 (69)
40 (102)
14
50%
L/R
14.4
9.7
CMPLT
$116.95
Order
2414-3957
17.50 (44.4)
39 (99)
57 (145)
14
100%
L/R
10.2
6.9
CMPLT
$117.45
Order
2415-0913
18.75 (47.6)
09 (23)
13 (33)
15
25%
L/R
10.2
6.9
CMPLT
$117.95
Order
2415-1319
18.75 (47.6)
13 (33)
19 (48)
15
50%
L/R
7.2
4.9
CMPLT
$118.45
Order
2415-1827
18.75 (47.6)
18 (46)
27 (69)
15
100%
L/R
5.1
3.4
CMPLT
$118.95
Order
2415-3340
18.75 (47.6)
33 (84)
40 (102)
15
25%
L/R
25
20.6
CMPLT
$119.45
Order
2415-3857
18.75 (47.6)
38 (97)
57 (145)
15
50%
L/R
21.6
14.6
CMPLT
$119.9
Order
2415-5480
18.75 (47.6)
54 (137)
80 (203)
15
100%
L/R
15.3
10.3
CMPLT
$120.4
Order
2415-1827-STK
18.75 (47.6)
18 (46)
27 (69)
15
100%
L/R
5.1
3.4
STK
$80.45
Order
2415-5480-STK
18.75 (47.6)
54 (137)
80 (203)
15
100%
L/R
15.3
10.3
STK
$91.90
Order
2416-2435-L
20.00 (50.8)
24 (61)
35 (89)
16
50%
L
14.4
9.7
CMPLT
$123.45
Order
2416-3450-L-STK
20.00 (50.8)
34 (86)
50 (127)
16
100%
L
10.2
6.9
STK
$85.40
Order
2416-3450-L
20.00 (50.8)
34 (86)
50 (127)
16
100%
L
10.2
6.9
CMPLT
$123.90
Order
2416-6884-L-STK
20.00 (50.8)
68 (173)
84 (213)
16
100%
L
20.4
16.4
STK
$86.35
Order
2416-5571-L
20.00 (50.8)
55 (140)
71 (180)
16
50%
L
25
19.4
CMPLT
$124.40
Order
2416-6884-L
20.00 (50.8)
68 (173)
84 (213)
16
100%
L
20.4
16.4
CMPLT
$124.85
Order
2416-0813-L
20.00 (50.80)
08 (20)
13 (33)
16
25%
L
10.2
6.9
CMPLT
$120.90
Order
2416-1218-L
20.00 (50.8)
12 (30)
18 (46)
16
50%
L
7.2
4.9
CMPLT
$121.40
Order
2416-1418-L
20.00 (50.8)
14 (36)
28 (71)
16
12%
L
25
19.4
CMPLT
$122.40
Order
2416-1725-L
20.00 (50.8)
17 (43)
25 (64)
16
25%
L
19.9
13.8
CMPLT
$122.90
Order
2416-1725-L1
20.00 (50.8)
17 (43)
25 (64)
16
100%
L
5
3.4
CMPLT
$121.90
Order
2416-1725-L1-STK
20.00 (50.8)
17 (43)
25 (64)
16
100%
L
5
3.4
STK
$83.40
Order
2417-1624-STK
21.25 (53.90)
16 (41)
24 (61)
17
100%
L/R
5.1
3.4
STK
$87.85
Order
2417-0812
21.25 (53.90)
08(20)
12 (30)
17
25%
L/R
10.2
6.9
CMPLT
$125.35
Order
2417-1117
21.25 (53.90)
11 (28)
17 (43)
17
50%
L/R
7.2
4.9
CMPLT
$125.85
Order
2417-1624
21.25 (53.90)
16 (41)
24 (61)
17
100%
L/R
5.1
3.4
CMPLT
$126.35
Order
2418-1522-L1
22.50 (57.2)
15 (38)
22 (55)
18
100%
L
5.1
3.4
CMPLT
$127.85
Order
2418-2131
22.50 (57.1)
21 (53)
31 (79)
18
50%
L/R
14.4
9.7
CMPLT
$129.35
Order
2418-2833-L
22.50 (57.1)
28 (71)
33 (84)
18
25%
L
25
20.6
CMPLT
$130.3
Order
2418-3044
22.50 (57.1)
30 (76)
44 (112)
18
100%
L/R
10.2
6.9
CMPLT
$129.8
Order
2418-1522-L1-STK
22.50 (57.2)
15 (38)
22 (55)
18
100%
L
5.1
3.4
STK
$89.35
Order
2418-3247-L
22.50 (57.1)
32 (81)
47 (119)
18
50%
L
21.6
14.6
CMPLT
$130.80
Order
2418-3044-STK
22.50 (57.1)
30 (76)
44 (112)
18
100%
L/R
10.2
6.9
STK
$91.3
Order
2418-4567-L
22.50 (57.1)
45 (114)
67 (170)
18
100%
L
15.3
10.3
CMPLT
$131.35
Order
2418-4567-L-STK
22.50 (57.1)
45 (114)
67 (170)
18
100%
L
15.3
10.3
STK
$92.80
Order
2418-0811-L
22.50 (57.2)
08 (20)
11 (28)
18
25%
L
10.2
6.9
CMPLT
$126.85
Order
2418-1116-L
22.50 (57.2)
11 (28)
16 (41)
18
50%
L
7.2
4.9
CMPLT
$127.35
Order
2418-1216
22.50 (57.2)
12 (30)
16 (41)
18
12%
L/R
25
19.4
CMPLT
$128.35
Order
2418-1522
22.50 (57.2)
15 (38)
22 (56)
18
25%
L/R
20.4
13.8
CMPLT
$128.85
Order
2419-1015
23.75 (60.3)
10 (25)
15 (38)
19
50%
L/R
7.2
4.9
CMPLT
$131.80
Order
2419-1421-STK
23.75 (60.3)
14 (36)
21 (53)
19
100%
L/R
5.1
3.4
STK
$93.80
Order
2419-1421
23.75 (60.3)
14 (36)
21 (53)
19
100%
L/R
5.1
3.4
CMPLT
$132.30
Order
2420-1420-L
25.00 (63.5)
14 (36)
20 (51)
20
25%
L
20.4
13.8
CMPLT
$134.35
Order
2420-1420-L1
25.00 (63.5)
14 (36)
20 (51)
20
100%
L
5.1
3.4
CMPLT
$133.35
Order
2420-1928-L
25.00 (63.5)
19 (48)
28 (71)
20
50%
L
14.4
9.7
CMPLT
$134.75
Order
2420-2740-L
25.00 (63.5)
27 (69)
40 (102)
20
100%
L
10.2
6.9
CMPLT
$135.25
Order
2420-4457
25.00 (63.5)
44 (112)
57 (145)
20
50%
L/R
25
19.4
CMPLT
$135.75
Order
2420-5480
25.00 (63.5)
54 (137)
80 (203)
20
100%
L/R
20.4
13.8
CMPLT
$136.25
Order
2420-1420-L1-STK
25.00 (63.5)
14 (36)
20 (51)
20
100%
L
5.1
3.4
STK
$94.80
Order
2420-1014-L
25.00 (63.5)
10 (25)
14 (36)
20
50%
L
7.2
4.9
CMPLT
$132.80
Order
2420-2740-L-STK
25.00 (63.5)
27 (69)
40 (102)
20
100%
L
10.2
6.9
STK
$96.75
Order
2420-1114-L
25.00 (63.5)
11 (28)
14 (36)
20
12%
L
25
19.4
CMPLT
$133.80
Order
2420-5480-STK
25.00 (63.5)
54 (137)
80 (203)
20
100%
L/R
20.4
13.8
STK
$97.75
Order
2421-1319-STK
26.25 (66.7)
13 (33)
19 (48)
21
100%
L/R
5.1
3.4
STK
$98.75
Order
2421-3957-STK
26.25 (66.6)
39 (99)
57 (145)
21
100%
L/R
15.3
10.3
STK
$100.35
Order
2421-0913
26.25 (66.7)
09 (23)
13 (33)
21
50%
L/R
7.2
4.9
CMPLT
$136.75
Order
2421-1319
26.25 (66.7)
13 (33)
19 (48)
21
100%
L/R
5.1
3.4
CMPLT
$137.25
Order
2421-2429
26.25 (66.7)
24 (61)
29 (73)
21
25%
L/R
25
20.6
CMPLT
$137.75
Order
2421-2740
26.25 (66.7)
27 (69)
40 (102)
21
50%
L/R
21.6
14.6
CMPLT
$138.25
Order
2421-3957
26.25 (66.6)
39 (99)
57 (145)
21
100%
L/R
15.3
10.3
CMPLT
$138.75
Order
2422-0913-L
27.50 (69.9)
09 (23)
13 (13)
22
50%
L
7.2
4.9
CMPLT
$139.25
Order
2422-1013
27.50 (69.9)
10 (25)
13 (33)
22
12%
L/R
25
19.4
CMPLT
$140.2
Order
2422-2536-STK-1
27.50 (69.9)
25 (64)
36 (91)
22
100%
L/R
10.2
6.9
STK
$97.15
Order
2422-1218-L-STK
27.50 (69.9)
12 (30)
18 (46)
22
100%
L
5.1
3.4
STK
$101.2
Order
2422-1218
27.50 (69.9)
12 (30)
18 (46)
22
25%
L/R
20.4
13.8
CMPLT
$140.75
Order
2422-2536-STK
27.50 (69.9)
25 (64)
36 (91)
22
100%
L/R
10.2
6.9
STK
$102.55
Order
2422-1218-L
27.50 (69.9)
12 (30)
18 (46)
22
100%
L
5.1
3.4
CMPLT
$139.7
Order
2422-1726
27.50 (69.9)
17 (43)
26 (66)
22
50%
L/R
14.4
9.7
CMPLT
$141.20
Order
2422-2536
27.50 (69.9)
25 (64)
36 (91)
22
100%
L/R
10.2
6.9
CMPLT
$141.70
Order
2423-1217-L-STK
28.75 (73)
12 (30)
17 (43)
23
100%
L
5.1
3.4
STK
$104.20
Order
2423-0812-L
28.75 (73)
08 (20)
12 (30)
23
50%
L
7.2
4.9
CMPLT
$142.20
Order
2423-1217-L
28.75 (73)
12 (30)
17 (43)
23
100%
L
5.1
3.4
CMPLT
$142.70
Order
2424-1117-L
30.00 (76.2)
11 (28)
17 (43)
24
25%
L
20.4
13.8
CMPLT
$144.65
Order
2424-1624-L
30.00 (76.2)
16 (41)
24 (61)
24
50%
L
14.4
9.7
CMPLT
$145.15
Order
2424-2125-L
30.00 (76.2)
21 (53)
25 (64)
24
25%
L
25
20.6
CMPLT
$146.15
Order
2424-2333-L
30.00 (76.2)
23 (58)
33 (84)
24
100%
L
10.2
6.9
CMPLT
$145.65
Order
2424-2435-L
30.00 (76.2)
24 (61)
35 (89)
24
50%
L
21.6
14.6
CMPLT
$146.65
Order
2424-1117-STK
30.00 (76.2)
11 (28)
17 (43)
24
100%
L/R
5.1
3.4
STK
$105.25
Order
2424-2333-L-STK
30.00 (76.2)
23 (58)
33 (84)
24
100%
L
10.2
6.9
STK
$107.15
Order
2424-3450-L
30.00 (76.2)
34 (86)
50 (127)
24
100%
L
15.3
10.3
CMPLT
$147.15
Order
2424-3747-L
30.00 (76.2)
37 (94)
47 (119)
24
50%
L
25
19.4
CMPLT
$147.65
Order
2424-3450-L-STK
30.00 (76.2)
34 (86)
50 (127)
24
100%
L
15.3
10.3
STK
$108.65
Order
2424-0812
30.00 (76.2)
08 (20)
12 (30)
24
50%
L/R
7.2
4.9
CMPLT
$143.25
Order
2424-4567-L
30.00 (76.2)
45 (114)
67 (170)
24
100%
L
20.4
13.8
CMPLT
$148.25
Order
2424-4567-L-STK
30.00 (76.2)
45 (114)
67 (170)
24
100%
L
20.4
13.8
STK
$109.65
Order
2424-0912-L
30.00 (76.2)
09 (23)
12 (30)
24
12%
L
25
19.4
CMPLT
$144.20
Order
2424-1117
30.00 (76.2)
11 (28)
17 (43)
24
100%
L/R
5.1
3.4
CMPLT
$143.75
Order
2427-3044
33.25 (84.4)
30 (76)
44 (112)
27
100%
L/R
15.3
10.3
CMPLT
$148.65
Order
2427-3044-STK
33.25 (84.4)
30 (76)
44 (112)
27
100%
L/R
15.3
10.3
STK
$110.15
Order
2428-3140
33.25 (88.9)
31 (79)
40 (102)
28
50%
L/R
25
19.4
CMPLT
$149.15
Order
2428-3957-STK
33.25 (88.9)
39 (99)
57 (145)
28
100%
L/R
20.4
13.8
STK
$122.25
Order
2428-3957
33.25 (88.9)
39 (99)
57 (145)
28
100%
L/R
20.4
13.8
CMPLT
$164.65
Order
What the Clear View part numbers mean
12 = Voltage
04 = Number of elements in defroster (height)
20 = Minimum length in inches
31 = Maximum length in inches
L = Tabs on left. If no "L" then tabs are on the left and right
STK = Stick Kit (defroster only)
Number of elements determines defroster height and cannot be modified during installation
Amperage: The minimum length pulls more amperage than maximum
Power Modulation: Defrosters with less than 100% modulation REQUIRE the ThermaSync defroster control