Frost Fighter Defroster Tab Solder Kit
Expert solder kit for the professionals
Defroster Solder Repair Kit
The Frost Fighter Solder Kit is a solder paste used to re-solder separated main power tabs to automotive rear window defrosters.
The high metals solder paste holds the defroster tab/clip in place during positioning and melts quickly when heat is applied. The kits no clean flux is safe for use on main power tabs.
Notice : This kit requires special tools and expertise.
If you have the slightest doubt on which kit to use, then use the 2000 TAB REPAIR KIT.
2010 Frost Fighter Solder Paste Kit - $38.45
Whats Included : Each kit comes complete with fully illustrated instructions, sandpaper and enough solder paste to make several defroster tab/clip repairs.
While the 2000 Frost Fighter Tab Kit is generally recommended for 95% of tab repairs there are instances when soldering the Clip/Tab back to the defroster is preferable. When the defroster has a metal pad in good condition the 2010 Frost Fighter Solder Paste Kit is a good choice here.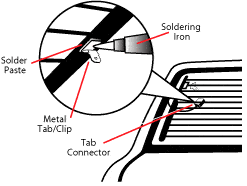 Frost Fighter defroster solder paste is a special no clean formulation safe for extended use on defrosters. To solder the clips/tabs back on, clean both the tab and the landing pad using the kits sand paper. Apply the solder paste to the defroster use a soldering iron (200-watt is best). Make sure your iron is hot before starting as it typically takes a good deal of heat to melt the paste. A damp towel on the glass directly behind the solder point can help prevent glass breakage.