Clear View II – Defrosters made easy
Easy to install aftermarket defrosters now available in new sizes
Clear View II Electric Defrosters make it easy to install high quality rear defrosters with factory heating performance and appearance in 12 and 24 volt.
Clear View II defrosters reliably melt snow and ice even in the coldest conditions and provide full rear window coverage with an attractive factory look.
NEW! Now available in hundreds of sizes from 10 inches up to 60 inches to fit every window.  Find the right one for you with our online order guide!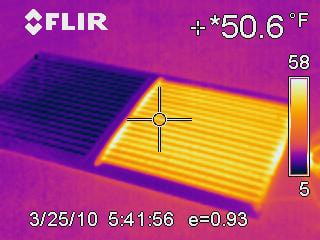 How to Install a Clear View Defroster
Defrosters for all rear windows
Clear View are the go-anywhere defrosters ready to install on any window, on any vehicle, anytime.  Available complete, Clear View defoggers include the automatic timer and switch, wire harness and installation kit perfect for new defroster installations.
Stick Kits are available in some sizes which include only the defroster for connection to the vehicle's existing defroster connections ideal for defroster replacement. Used in cars, trucks, tractors, industrial cabs, boats, and any other place a defroster is needed.
The defroster elements come on pre-spaced rolls for accurate application to the window. The elements can be trimmed between the minimum and maximum lengths for a custom installation and are similar in color to factory defrosters for a professional finished look.
Clear View defrosters can be used on any glass or plexiglass window or surface.
Clear View II are complete window defrosters
These defrosters match the look and performance of factory installed defrosters, melting snow and ice plus clearing mist in minutes.

---
How they work
Clear View defrosters use fine heating elements that bond directly to the surface to be defrosted. These horizontal elements connect to the Clear View vertical side buss bars which have integral tabs for power and ground.
The defroster grid is engineered to have an electrical resistance which, when powered, provides the heat needed to clear windows of snow and ice. The heating is accomplished through contact between the defroster elements and the window.
Clear View self-adhesive heating elements come on pre-spaced rolls for easy and accurate application. These heating elements match the color of factory defrosters and adhere directly to the glass or plexiglass.

The elements are simply trimmed to size between the defrosters minimum and maximum lengths for a custom fit during installation. There is no plastic backing left on the window to crack or yellow.
The defroster is connected electrically through the buss bar tabs to the vehicles power and ground, then activated with the automatic ThermaSync defroster control.
---
Defroster Controls
The ThermaSync defroster controls are available in two series the 2700 and 2800 and are shipped with complete Clear View defrosters. These controls feature a set activation time normally 10 minutes with automatic shut off and LED indicator light. The activation switch is a push button and can be mounted up to 30 inches from the control body making installation easy.  We automatically include the correct control and settings for the Clear View defroster you order!
---
Complete Defroster Kits
New Installations. Now available in over 250 sizes, Clear View II defrosters come complete with everything needed for installation including, a pre-assembled wiring harness, ThermaSync control and switch, connectors, fuse, heating elements, buss bars plus fully illustrated step-by-step instructions for easy installation.
Clear View instructions come in two easy parts. The General Instructions include the background and basics of installing a Clear View defroster. Attachment 2 shows exactly how to install the delivered defroster.

---
Stick Kits
Ideal for defroster replacement. Stick Kits are for vehicles with working defroster wiring and switching. Stick Kits can connect with existing defroster circuitry and include only the defroster, side buss bars and Gap One cleaner. Not every defroster size is available as a stick kit.
Stick kits include only what sticks to the glass. Clear view stick kits DO NOT include wiring or a controller. Please call 303-682-0274 with any questions.
---
Ordering the right defroster is EASY!
Selecting the perfect defroster is easy. Measure the defroster area and choose a defroster that fits. We have an easy to follow Clear View Defroster Selector.
To order see the Clear View Defroster Selector
Ordering Tip! Clear View defrosters have a minimum and maximum length and are trimmed to size during installation. Defrosters operate a little warmer at the minimum lengths.

The 2609, 2612 and 2616 defrosters have been updated and are still available. See the Clear View Legacy Defrosters
---
ThermaSync Defroster Controls
New ThermaSync defroster controls offer reliable automatic shut off timing and enable many new defroster options in 12 and 24 volt.
ThermaSync 12 volt defroster controls come in two models. The 2700 series  control features simple automatic ten minute timing while the 2800 series has adjustable automatic shut off timing, power modulation and can be networked for single switch operation of several defrosters.
The 2700 series is a relay based ThermaSync defroster control which turns the defroster on for a set time typically ten minutes. Activation is indicated by a red lamp on the switch face.  The defroster shuts off automatically after a standard 10 minutes.
The 2800 series of ThermaSync controls feature automatic shut off timing that can be set. Some defrosters require power modulation which reduces the apparent voltage provided to the defroster. Power modulation is only available in the 2800 series.
See the ThermaSync Defroster Control page.
---
Special Defrosters
Defrosters for every application. New sizes mean new applications for Clear View defrosters. In addition to standard defrosters we have defrosters for truck back windows, van back doors, front windows in the wiper parking area, bus destination signs and many other applications.
See these specialty defrosters tailored to meet specific defroster challenges.