Rear Window Defroster Repair Solutions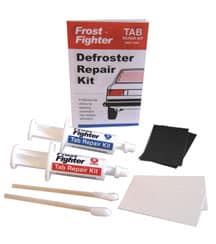 Rear Defroster Tab Bonding Kit
Silver makes the difference
This best seller bonds defroster tabs to rear defrosters. The conductive silver adhesive bonds aggressively forming the electrical and structural connection in one simple operation. Designed for reliable high amperage defroster tab bonding.
More Tab Bonding Kit
Need defroster tabs?
See Uni-Clip Defroster Tabs
2000 Tab Bonding Kit -
NEW
$54.99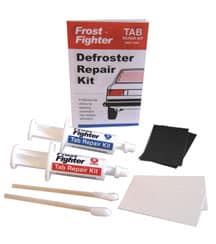 Frost Fighter Defroster Repair Bundle
Silver makes the difference
The Defroster Repair Bundle has everything you need to fix a broken rear window defroster including the defroster tab bonding kit, two universal replacement tabs and a connector.
A $62.80 value for the price of $51.69!
2000 Frost Fighter Tab Bonding Kit – Two part silver tab bonding adhesive, complete instructions, sandpaper, stir sticks, mixing pads and enough material for multiple repairs.
Uni-Con Replacement Connector
2300 – URX Uni-Clip Defroster Tab – Universal tab that fits most Ford & Chrysler vehicles
2307- NFE Uni-Clip Defroster Tab – Universal tab that fits most GMC vehicles
Frost Fighter Defroster Repair Bundle -
NEW
$61.99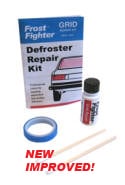 Rear Defroster Grid Repair Kit
Color matched, conductive
Repair damaged defroster lines. Mask off the damaged grid line and apply the conductive coating. The new silver filled coating bonds aggressively, flash cures and is color matched for invisible repairs. Kit will do several long repairs up to four inches and includes cap brush for easy application.
More Grid Repair Kit
2120 Grid Repair Kit -
NEW
$32.95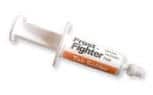 Expert Rear Defroster Solder Kit
Solder tabs to defroster
Frost Fighter Solder Kit is a solder paste used to re-solder separated main power tabs to automotive rear window defrosters. The high metals solder paste melts quickly when heat is applied. This kit requires special tools and expertise.
More Expert Solder Kit
Need defroster tabs?
See Uni-Clip Defroster Tabs
2010 Expert Solder Kit
$38.45
Rear Defroster Grid Test Lamp
Find/fix defroster trouble
Test rear window defrosters and identify broken defroster grids. The 12 volt test lamp is easier to use than a volt meter and comes with two long wire leads one with a tab clip and the other with soft probe end. Test the circuit and locate hard to find defroster breaks. Comes with full instructions.
More Defroster Test Lamp
2400 Defroster Test Lamp
$16.45

Loctite Combination Pack
312 Adhesive, 736 Primer
Structural Adhesive is an ultra fast setting, two step acrylic, no mixing required, amber adhesive. 312 has a very low viscosity and should be used in conjunction with LOCTITE Primer 736™ to create a tough durable bond on close fitting parts. The 03333 kit is good for wire tacking on defrosters.
1900 Loctite Combination
$39.95