New! Clear View Defrosters and Controls in 24 Volt
The any vehicle, any window, anytime defrosters
Defrosters and controls in 24 volt. Now it is easy to install defrosters with proven heating performance and a professional factory look.
Clear View II Defrosters reliably clear windows of fog, snow and ice even in the coldest winter conditions. Clear View defrosters are trimmed during installation between the minimum and maximum lengths for a custom fit on almost any window.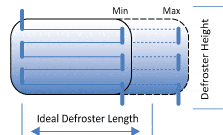 24 Volt Defrosters
Clear View II 24 volt defrosters are specially designed to work with 24 volt systems. Cost effective and easy to install, new Clear View II defrosters are trimmed size during installation for a custom fit with an attractive factory look.
To order Clear View 24 Volt Defrosters please select the link below.
24 Volt Defrosters – Over 200 24 Volt Sizes Available
Available as complete defrosters including automatic timer or as defroster only "Stick Kit" option ideal for defroster replacement using a vehicle's existing defroster wiring.
For more see the Clear View Defroster general information
ThermaSync 24 Volt Defroster Controls
New ThermaSync defroster controls are the ideal companion for 24 volt Clear View II defrosters. Available in two 24 volt models from simple automatic timing to more sophisticated units with power modulation, adjustable automatic timing and one switch control of multiple defrosters.
ThermaSync Controls are made in the USA.
ThermaSync 24 Volt defroster controls can be ordered online here – ThermaSync Defroster Controls
Switch Boss
The ThermaSync Switch Boss enables a single switch to activate almost any number of Clear View II Defrosters. This network control is ideal for equipment cabs and other applications that require several defrosters to be activated with a single switch.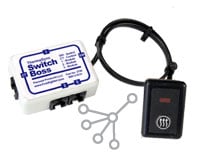 2730 Switch Boss Network Control
When used with ThermaSync 2812 or 2824 defroster controls up to four Clear View II defrosters can be activated from a single switch.
Connecting a second Switch Boss allows control of up to seven defrosters. Additional Switch Boss combinations are possible. See more on the Switch Boss Defroster Control.
Ordering – Select 24 volt defrosters are now online
Please contact us directly to add a specific 24 volt defroster to the list below. Defrosters ThermaSync 24 Volt defroster controls can be ordered online here – ThermaSync Defroster Controls Clear View II Defrosters are delivered complete with a wire harness, control, switch, installation pack and fully illustrated instructions.
See all 180+ Clear View II 24 volt defrosters and controls including technical specifications
Clear View II 24 Volt Defroster Master Catalog (PDF)
---