Fast and easy defroster control installation
Included with complete Clear View Defrosters
NEW! 2728 ThermaSync defroster wire harness and installation pack makes it easy to install ThermaSync defroster controls.
Ideal for vehicles with existing defrosters but no defroster control circuitry.
More information below on the 2728 ThermaSync Installation Pack including ordering links.
This pack is INCLUDED with "complete" Clear View Defrosters.
Do not order this kit in addition to ordering a Clear View II complete defroster.
ThermaSync Installation Pack - $40.65
What's Included : The wire harness includes color coded connectors sized to fit ThermaSync defroster controls – and the defroster.
Easy 2728 ThermaSync defroster control installation
The 2728 installation pack makes installation of ThermaSync defroster controls easy.
The high quality stranded wire is sized to meet demanding defroster amperage requirements. Color coded and labeled connectors fit ThermaSync power, ground and defroster terminals.
An under dash mount provides an alternative to in dash mounting of the ThermaSync defroster switch.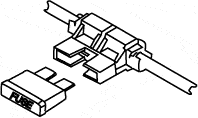 The 20 amp fuse is sized for defroster circuit protection and included a wire tap fuse holder for easy installation.
A T-tap can be used to connect power or ground and fits the proper connector on the wire harness.
Spare defroster connector makes it easy to shorten the wire harness as needed for a custom fit.
The wire ties, extra connectors and mounting and grounding screws round out the 2728 Defroster Installation Pack.
Full instructions including the wiring diagram are included with each defroster installation pack.
This kit is INCLUDED with full Clear View Defrosters. Do not order this kit when ordering a Clear View II complete defroster.