Clear View Bus Destination Sign Defrosters
Defrosters for bus destination signs
Clear View II Electric Defrosters make it easy to install high quality defrosters that deliver the heating performance needed to keep bus destination signs free of frost, snow and ice.
Used by Gillig, NABI and other bus manufactures the Clear View II destination sign defrosters melt snow and ice even in tough winter conditions.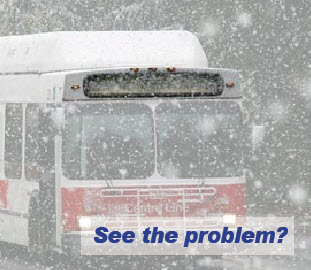 Defrosters made easy
Based on proven Clear View II technology defrosting is accomplished through contact between the Clear View elements and the window.
The defroster elements come on pre-spaced rolls for easy and accurate application to the window. The elements can be trimmed between the minimum and maximum lengths for a custom installation and are color matched for a factory look.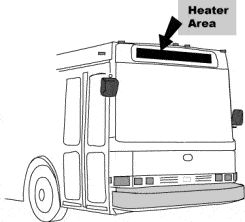 Bus Destination Sign Defrosters
For more than twenty years Clear View defrosters have been keeping bus destination signage clear of snow and ice. Recently updated with the flexible Clear View II bus destination signage defrosters now feature:
Improved heating performance
Reliably clears snow and ice buildup
Trimmed during installation for a custom fit
Available as a defroster only option
Also available as complete system
Easy and fast installation
Complete step-by-step illustrated instructions
Available in 12 and 24 volt
Clear View II Bus Destination Defrosters
Clear View II defrosters are trimmed to match the sign length during installation. The heating elements bond directly to the glass and are connected electrically to the vehicle using the defrosters integral buss bar tabs.

The defroster has an electrical resistance which when powered provides the heat needed to clear windows of snow and ice in minutes. Heating is accomplished through contact between the defroster elements and the window. These simple but very effective defrosters have been clearing bus destination signage for over twenty years for several major manufactures.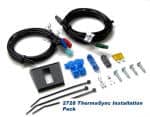 Connections
Electrical connections to the defroster are made using the tabs integral on the defrosters side buss bars. The defroster control is easy to connect using the supplied wire harness.
Defrosters are available complete with the ThermaSync timer controls, defroster activation switch, wire harness and installation pack for easy installation or as defroster only options.
Instructions
All Clear View defrosters come with a set of general instructions and attachment detailing the exact defroster being installed. It is critical that the instructions be understood before installation.
Installation
Delivered ready to install, Clear View II van defrosters are complete with ThermaSync control, defroster switch and installation pack including wiring harness, under dash mount, fuse and holder, mounting screws, connectors and and other installation accessories. The installation pack makes it easy to go from having no defroster to full rear window coverage
More on Defroster Installation Pack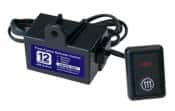 Defroster controls with smarts
Clear View defrosters use ThermaSync controls which provide several options including operation of multiple defrosters with a single switch plus a range of automatic timing options from ten minutes to continuous operation. Standard timing is 20 minutes on.
More on ThermaSync Defroster Controls
Bus Destination Sign Defrosters