Frost Fighter ordering information
Every order deserves individual attention
Order Online!
The PipeKnifeCompany is the manufacturer of the Frost Fighter®, Clear View and ThermaSync® defroster repair and replacement products. Shop our online catalog and secure server to place your order for Frost Fighter, Clear View and ThermaSync products.
To deliver the best possible products at the lowest prices we do not distribute through auto parts stores. Ordering online insures the most accurate and fastest order process.
Call us
303-682-0274 Tel
Call in your order, support or technical questions to our friendly staff.
Email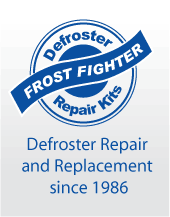 Order Terms and Conditions
The PipeKnifeCompany Terms and Conditions
Order Updates and Acknowledgements
Orders placed online receive an order acknowledgement e-mailed at the time of the order plus a shipping update with a Sales Receipt and tracking information when the order is shipped.
Shipping
We make every effort to ship orders in a timely manner normally same day if possible. Clear View defrosters require some components to be built to order and this can delay shipment briefly. If the delay is material we will make every effort to contact you with updated delivery information.
Duties and Taxes
We are not responsible for duties or taxes imposed by destination countries.
Privacy and Security
Your privacy and security are of the utmost importance to us. We use a secure server and do not share your e-mail or personal information.
RUSH ORDERS
We make every attempt to ship overnight and two day orders as quickly as possible but cannot guarantee next day delivery. Please call our order desk with rush orders.
Contact Information
The PipeKnife Company
13301 W 43rd Dr
Unit 11
Golden, CO 80403
USA
Hours of Operation
8:30 to 5:00 Monday through Friday
Mountain Standard Time
INTERNATIONAL ORDERS
We welcome your order and ship to international customers every day.
If a country is listed in our online shipping estimator we ship to you. Our online shipping tool shows real time delivery options and charges as part of the checkout process. See how to check out and use our online Shipping Estimator Guide as the best way to estimate international shipping costs and options in real time.
Duties and Taxes
We are not responsible for duties or taxes imposed by destination countries.
Order Tracking
Depending on the carrier used tracking information may not follow door-to-door and may end when the order is passed to the destination countries delivery service.
Delivery
Please allow at least 10-15 days for delivery depending on the delivery service selected upon checkout. Customs sometimes delays delivery. We have an online tool that allows you to estimate your shipping costs and services available.